Forget buying lunch! Homemade is so much better. Create your own easy, fun bento-style lunches with these helpful tips and techniques.
Have you seen the flurry of bento style lunchboxes that are infiltrating stores everywhere these days? No longer do you have to Google and special order the cute little compartmentalized containers to make up a buffet of deliciousness for the kids to enjoy at school.
These days, major manufacturers are making all sorts of bentos and they are available at bargain prices too. But the real issue isn't where to find bento-style lunchboxes anymore; it's what to put in them.
I mean seriously, what do you put in them?
If you are anything like me, then you probably don't have a ton of time in the mornings to whip up complicated, imaginative bento-style lunches. But that doesn't mean you can't fill your child's box with something cute. Here's how to make fun bento-style lunches — without the fuss.
1. Plan Ahead for Fun Bento-Style Lunches
When it comes to making lunches, there is nothing worse than having to hustle to pull together something at the last minute — and even more so when that something is going into a box with a bunch of cubbies and compartments.
To make fun bento-style lunches stress-free, stock up on foods and gear that will make it easy. You'll want to keep foods on hand that mix, match and pack well. Many fruits and veggies that your kids love (berries, grapes, melon, cucumbers, bell peppers, broccoli, cauliflower, carrots, etc) are perfect for bentos. So are cheeses, pre-cut salami and pepperoni and leftover grilled or breaded chicken. Crackers, fish crackers, etc are great too.
Tortillas can be used for wraps, quesadillas (cooked and chilled before packing), and even little tortilla shapes … if you are so inclined.
2. Keep It Simple
When I first started making my son bento-style lunches, I was always envious of the super cute ones with little animals fashioned out of food. But everyone needs to know their limitations (including me!). Plus, I realized something: while cute, Will doesn't really care if his sandwich looks like a bumblebee. What he does care about is variety — specifically, that I include favorite foods in his bento-style lunch. Focus on contents that your kids will love, and don't over-complicate the process.
Of course, if ladybug sandwiches are your thing, go for it!
3. Be Whimsical — Within Reason
I have to admit that I adore mini cookie cutters. They add just the right touch of whimsy to a lunch, without being fussy. But, like anything, know your limits with them. For me, that means using them.
It takes seconds to add a little whimsy to pieces of salami (I buy pre-cut salami that's about 1/4-inch thick and 1-inch in diameter). Just use a mini cookie cutter to cut a shape into the salami. Here's the thing though: It takes a lot longer to make that shape cut all the way through. But is it necessary? These bits of salami are fun with the shape cut into them — and they are headache free.
Meanwhile, you can use that same cookie cutter to cut cucumbers, sweet peppers and cheese into shapes (yes, all the way through).
4. Skewer It
Worried something will roll around (or come unrolled)? Itty bitty toothpicks are perfect for keeping wraps together and ensuring that your grapes remain orderly. Heck, mini fruit kabobs on cocktail skewers are so darn fun.
5. Precut When Possible
Some foods are best cut when you are about to use them (cheese, for instance). But others — like peppers, cucumbers and some fruits can be prepared in advance (and even cut into fun shapes!) to save you time in the mornings. Store precut foods in airtight containers in the fridge for best results.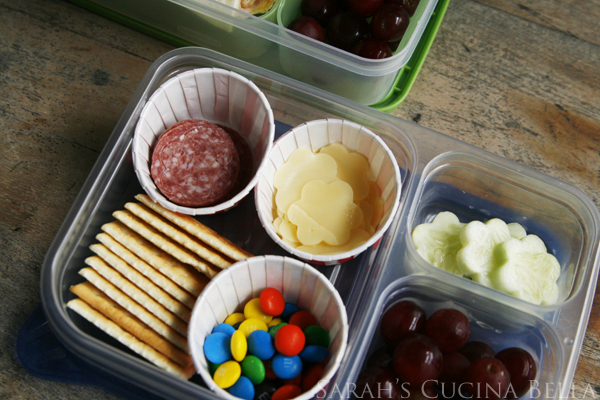 6. Divide, Divide, Divide
Sure, you could totally just put everything into a sandwich container. But what happens when that sandwich container rolls around in a lunchbox on the way to school, to the cafeteria, etc? Somehow, the cute food doesn't seem so fun, right?
So you want to make sure you are keeping foods separated using special containers with compartments — but the good news? You can find them at many major retails including Target, Walmart and probably your local grocery store.
Supplement them with treat cups (found near the baking supplies) or cupcake liners. Silicone cupcake liners are a great option too because they are reusable and eco-friendly.
7. Keep It Nutritious
As with any lunch for your kids, you want to provide a balance of nutrition. Fun foods like candy-coated chocolates sit alongside grapes. You can use whole-grain crackers. Add a cute veggie. And when choosing the meats and cheeses, be sure to choose smartly.
8. Change It Up
If you opened your lunchbox every day and saw the same combination of foods, you'd probably get a little bored, right? Your kids probably will too. So change the variety from day to day. For instance, one day you might make a homemade lunchables-style lunch with crackers, cheese and meat. But the next day? How about a wrap with grapes and something crunchy?
You can whip up an Easy Chicken Cordon Bleu Wrap that combines a slice of Swiss cheese with a slice of Virginia ham, one left-over chicken tender and a little honey mustard in a flour tortilla. A filling option, it takes a minute to make and is perfect for packing for school.
9. Transform Leftovers Into Lunches
Psst. I am going to let you in on a little secret. Leftovers are awesome in fun bento-style lunches. Add a half ear of leftover corn. Spoon in some of last night's pasta. Leftover steak, chicken, beans, etc can be spooned into pitas for sandwiches. If you have it, use it.
10. Include a Little Treat
What's better than a sweet treat to end a meal? Don't forget to add a little something special to make your child's bento-style lunch extra fun. (Hint: keyword here is little.)