Soups, pastas, leftovers. They can all make delightful lunches on the go with the right gear and preparation. But sometimes you need lunches that are lower maintenance. These no-heat lunch ideas will help.
These are what I lovingly refer to as lazy lunches. They require no cooking to eat (though some are cooked ahead of time) and can be perfect for work, school, daycare, whatever. And best of all, you'll find something for everyone in this thorough list of lunches.
---
No Heat Lunch Ideas for School
Rushing to get the kids out the door? Or perhaps you just need some cold lunch ideas to make the day easier. These are school lunches that don't need reheating.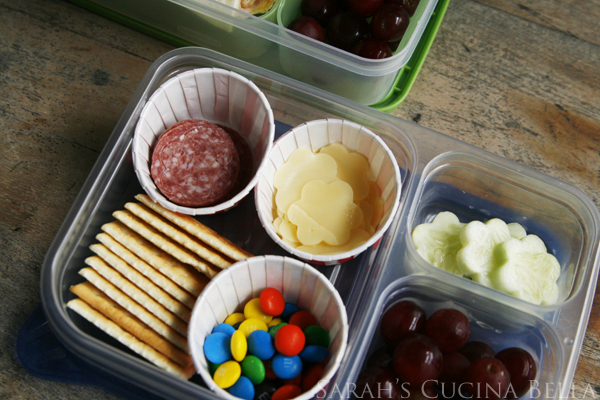 The concept here is simple: layer salad ingredients in a jar and then, when you're ready to eat, dump them into a bowl. The dressing (at the bottom of the jar) will coat the salad as you arrange it in the bowl.
This lovely clean eating, protein-rich recipe is filled with bright citrus flavor. Plus, it's a combination of sweet, savory and salty flavors — a total lunchtime delight!
How fun is this? This salad-in-a-jar recipe features rich egg salad, salty bacon and peppery arugula. And they're easy to make-ahead and enjoy for lunch.
So easy, so tasty. These tortilla pinwheels are a fun and flexible addition to the lunch box.
Skip the tortilla and reach for lettuce instead. These Turkey Hummus Lettuce Wraps are a satisfying and easy lunch idea perfect for packing in the lunch bag.
How fun are bento style cold lunches? You combine food in fun shapes and types for a delightful mix-and-match lunch!
Caprese salad — that divine combination of tomatoes, fresh mozzarella and basil — is reimagined on a skewer in this easy, packable recipe. When you make it, be sure to include the optional pesto. It makes it all the better.
Filled with loads of veggies, ground beef and a little ranch dressing, these pita pockets are satisfying midday fuel.
Packing yogurt in the lunchbox can sound hard (how do you keep it from going bad?!?) but really, it's just a trick of knowing how to do it safely. And this recipe, featuring delightful Granola Parfaits with grapes, tells you how.
Peanut butter lovers will adore this fabulous, fresh sandwich featuring apples, honey and peanut butter. YUM!
This is another skip the bread recipe that totally satisfies with its combination of flavors and textures (sweet! savory! creamy! crunchy!).
---
No Heat Lunch Ideas for Toddlers
Whether you are packing for preschool or daycare or feeding your little ones at home, easy lunches that can be prepared fast and satisfy young appetites are essential. These no-cook lunches for kids totally fit the bill.
This is such a fantastic make-ahead recipe. Bake up a batch of these pizza puffs, store them in an airtight container and pack them in lunches for the next few days.
2. Cheese, Crackers, and Veggies
When my kids were in preschool, this was their very favorite lunch — especially when I cut cheese, peppers and cucumbers into fun shapes with mini cookie cutters. And it's a lunch you can feel good about since it's filled with good nutrients.
3. PB&J with Fruit Salad
A classic! PB&J on your kids' favorite bread paired with fruit salad (homemade or store-bought — you decide!). This lunch hits all the bases. But if you're in a nut-free school, fear not. The peanut butter can be replaced with more allergen-friendly alternatives like Sunbutter.
These are so easy and delightful to make ahead — a muffin made of egg and cheese (and a few other ingredients) just waiting. to be devoured. Pack a couple in the lunchbox with some veggies or fruit for a hearty, nutritious meal.
5. Boiled Egg Snack Box
Another make-ahead idea: Hard boil eggs over the weekend, and they will be ready to peel and pack all week. To make a snack box of it, add some cut up veggies, crackers or a roll and something to dip.
6. Deli Meat, Veggie Sticks and Dip
My kids used to love when I would transform deli meat into rollups for their lunches. Pack a few of those babies, some veggie sticks and some dip and you have an easy, quick no-heat lunch.
Calling all Angry Birds fans! This creative lunch will be so fun for your little one to open at school. Totally worth it.
8. Bagel Sandwich
Bagels and bagel thins aren't just for breakfast! They are also excellent for sandwiches. Take your little one's favorite variety, top it with lunch meat, cheese, lettuce and tomato — or PB&J and pack it up for lunch. They likely won't eat the whole thing so save half for another day's lunch.
For pasta-loving little ones, this is a perfect recipe to make ahead for lunches. Filled with nutritious veggies and beans, and packed with flavor, the adults might just want to pack some too.
10. Rainbow Fruit with Yogurt and Granola
Get out the grapes, blueberries, strawberries and other favorite fruits and back them up with yogurt and granola (for best results, store them in separate containers). Together they make an excellent, nutritious lunch that kids love.
These bites, baked in muffin pans, are adorable and so craveable. Make up a batch and send them with your little one for fun lunches. They can be enjoyed at room temperature or you could warm them and send them in a thermos.
12. Chicken Quesadillas
We think of this as a hot food, but quesadillas are also enjoyable at room temperature. Whip up a batch with cheddar and leftover chicken, cut into wedges and pack some for your toddler's lunch. You might even want to put a few tomatoes on the side.
Marinara sauce, cheese and pepperoni are stuffed inside crescent rolls in this easy make-ahead recipe. And it's flexible: switch that pepperoni for sausage, veggies or whatever your little one loves on pizza.
---
Low Carb No Heat Lunches
Looking for something that better fits your low-carb lifestyle? I've got you covered! These cold lunch ideas are perfect for keto or low-carb diets. Best of all: no reheating needed!
Packed with protein, these roll ups are a delight. A scrambled egg pancake is rolled up with wonderful, fresh prosciutto. Genius! (Hint: the recipe is within this post and super easy).
Chickpeas and avocado are smashed together with seasonings like scallions and lime juice for a delightful salad. Although it's shown on bread, there are many ways to enjoy it — such as scooped on a salad or in lettuce leaves for lettuce wraps. Do note though: this is best eaten the day it is made and it will need to be chilled until you eat.
Richly seasoned ground turkey is combined with edamame and carrots for a wonderful high-protein meal in this Turkey Lettuce Wraps recipe. Be sure to choose a low-carb hoisin sauce to use (or make your own!) to keep this low-carb.
How can sesame noodles be low-carb, you wonder? By making them with cool cucumbers! You'll want to pull out the spiralizer for this flavorful recipe.
Thinly sliced cucumber is spread with hummus and topped with turkey and veggies in these easy roll ups perfect for lunchtime.
Sweet and spicy, these make-ahead chicken meatballs are coated with a brilliant sauce that makes them irresistible. And, best of all, they are delightful cold.
Packed with flavor, these bowls include flavorful chicken, veggies and feta cheese. And although the author recommends heating them before serving, this is precisely the kind of make-ahead recipe that can be enjoyed at room temperature too.
---
No Heat Lunches for Adults
Grownups need lunch ideas too, right? (Yes, yes they do!) These no-heat lunches for adults are totally craveworthy. Which one will you try first?
What are you packing in your kid's lunch box? This quick and easy recipe for Barbecue Roast Beef Wraps is a great alternative to traditional sandwiches.
Leftover steak makes this easy salad filled with veggies and blue cheese delectable. Of course, you could heat the steak before eating, if you have access to a microwave (just the steak) — but then it's not a no heat recipe.
Egg salad in a pita with steak? Sign me up for this mouthwatering lunch option.
Chicken, ham and cheese … this is one of those combinations that just gets me excited. And the addition of honey mustard? It makes this quick and easy recipe for Chicken Cordon Bleu Wraps just perfect.
What if roast beef were the wrap? That's what's happening in these creative rollups. And inside are some crisp, bright veggies. Yum.
If you love taco salads, this meal prep one is perfect for easy lunches.
7. Charcuterie Board in a Box
Grab your favorite cheeses, sliced meats and crackers. Maybe add some fig jam and veggies. This is the kind of cold lunch that has me anticipating lunchtime all day.
8. Deviled Eggs And Veggie Dippers
Deviled eggs are among my kids' favorite things. But have you ever considered packing them for lunches? Add in some sliced veggies and a favorite dip and you have a perfect lunch.
Potatoes, bacon, cheeses … this potato salad has it all. And it could make a divine lunch. Serve it atop a bed of lettuce.
Buffalo chicken, blue cheese and veggies fill these spicy wraps. Yum.
---
Lunch Ideas for Work When You Don't Have a Microwave
No microwave or fridge? No problem. These no-cook lunches are perfect for workplaces that don't have the typical amenities.
Although all of the no heat lunch ideas in this post can be eaten cold or at room-temperature, these packable lunches for work take it a step further: they are all just fine for enjoying even if your workplace is without a fridge.
Be sure to pack your lunch bag with an ice pack to keep these no heat lunch ideas perfect for lunchtime.
Jar salads are such a great packable lunch. This one includes homemade ranch dressing, chunks of chicken, cheese and more to make a satisfying midday meal.
Good chicken salad is meaty, fresh and satisfying. Easy to make, you can enjoy it in sandwiches at home or on the go.
Ratatouille is a wonderful make-ahead dish (and this recipe makes it so easy!). It's quite tasty cold as well. You could eat it just like that or drizzle with a touch of good balsamic vinegar.
If you like sushi, you'll love these avocado rolls. Wrapped in nori and filled with veggies, they are best made and eaten on the same day.
Cucumber subs have been all the rage in the past few years. Instead of bread, the meats and cheeses are served between two halves of a cucumber. What a fun brown bag lunch idea!
Once the tomatoes are all roasted and cooled down, you toss them with cooked whole wheat pasta, fresh basil, chickpeas and a quickie homemade red wine vinaigrette. Yummy!
Packed with protein and lean, these Chicken Meatloaf Muffins sound perfect for eating on the go. Bake up a batch and freeze them until you need them. No reheating needed as long as you thaw them first.
This tangy, briny Mediterranean Tuna Salad combines sweet bell peppers with cool cucumbers, feta, kalamata olives and tuna. Dressed simply with lemon juice, olive oil, salt and pepper, it's an easy lunch option.
This vegetarian option can make a delightful lunch: black beans, green chiles, cauliflower rice, and Mexican spices combine for a perfect filling for these delightful taquitos.
Chilled noodles. Peanut sauce. Peanuts. Green onions. This is a savory meatless lunch option that has me written all over it. How about you?
All the goodness of cobb salad is wrapped up in a convenient, on-the-go presentation. You'll love the combination of flavors here.
Cheddar lends a pleasant sharpness while earthy broccoli and scallions lend depth. This Broccoli Cheddar Muffins recipe makes a great grab and go breakfast.
Shredded chicken, hummus, chopped fresh veggies, a homemade red wine vinaigrette, and crumbled cheese are piled on soft naan bread in this easy, quick recipe for Chicken Hummus Wraps. Yum.
14. Chicken Bacon Ranch Pasta
The combination of tender rotisserie chicken, salty bacon, bright peas and creamy ranch makes this dish a total winner — and delicious served hot or cold.
---
Frequently Asked Questions
What can I make for lunch without cooking?
So many things! Salads can be made by chopping veggies and adding either leftover meats (chicken, steak, etc), hardboiled eggs (you can buy them already hard-boiled at the grocery store) or beans (buy canned and rinse before you add them to your salad). But that's not all. Sandwiches and wraps are also good no heat lunch ideas. So can bento-style lunches that combine foods like meats, cheeses and leftovers.
What can I eat for lunch instead of sandwiches?
Grain bowls are a favorite of mine — cooked grains topped with foods like roasted veggies, leftover chicken and vinaigrette. You can also eat salads, cold soups, leftovers, baked potatoes with fun toppings (though you might want to heat that one before eating) and bento boxes.
What can I pack for lunch without refrigeration?
Many foods can be packed for lunch without refrigeration as long as you use ice packs in an insulated cooler. In the summer time (and in warmer climates) you'll want to use more than one ice pack to ensure that your food stays at the optimum temperature until lunchtime.